3 Steps to Prepare for an Emergency
Step 1: Get a Kit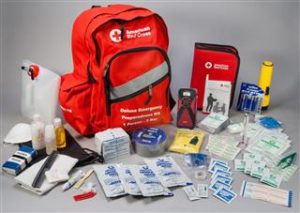 Make a kit of emergency supplies
Items For Your Home:
Three days' supply of canned, non-perishable, ready-to-eat FOOD
Three days' supply of WATER (a total of three gallons per family member)
Battery-operated RADIO and extra batteries
FLASHLIGHT and extra batteries
One week's prescription MEDICATIONS
FIRST AID KIT
Personal TOILETRIES
Non-electric CAN OPENER and UTENSILS
SPECIAL NEEDS items:

INFANT care items
Items for ELDERLY family members
Items for relatives with DISABILITIES

CASH or TRAVELERS CHECKS
Store important DOCUMENTS in a waterproof, safe location
In Case You Need To Evacuate:
Keep your vehicle's gas level at a minimum of half-a-tank.
Every family member must carry CONTACT INFORMATION:

All phone numbers at work, school, etc. for every family member
The name and number of a relative who lives out-of-state, to call in case your family gets separated.
close
These are the basics. Once you've created your basic kit, you should continually expand and refine it. For example, you could follow these additional tips on emergency food and water supplies.
Step 2: Make a Plan
"Make a Plan" for Yourself, Your Family, or Your Business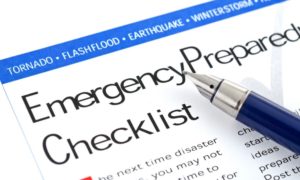 Establish a predetermined meeting place away from your home. Having a pre-arranged place to meet can save time and minimize confusion should your home be affected or the area evacuated. This may even be the home of a friend or relative.
Choose an out-of-state contact your family members will call or email to check on each other, should a disaster occur. Make sure every family member has that person's contact information.
Collect contact information for your family:
phone (work, cell, office)
email
social media
medical facilities, doctors, service providers
school
Complete a contact card for each family member. Everyone should keep these cards with them at all times.
Make sure all your family members know how to text. Make sure everyone knows how to turn on a cell phone, find the text messaging app, type a message, and send it to a contact.
Find the safe spots in your home for each type of disaster. For example, during a tornado, you would need to seek shelter in a lower level room without windows.
PRACTICE. Review these plans with all members of your family. Practice your disaster plans by running drills with the whole family.
Learn how and when to turn off the water, gas, and electricity at the main shut-off locations.
Show each family member how to use a fire extinguisher, and show them where it's kept.
---
If you have Disabilities or other Special Needs:
If you have Pets:
---
Learn what it means when Public Safety Officials order you to:
---
Learn More
Visit the American Red Cross Make a Disaster Preparedness Plan web page for more information and in multiple languages.
Step 3: Stay Informed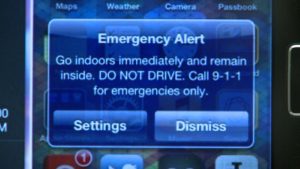 It is important to know about the risks that may happen in your community, and to know whether an emergency is imminent or is already taking place.
Visit our Community Alerts page to learn about the different ways emergency officials provide information during times of emergency.
Latest Facebook Posts
Please see the below information from the US National Weather Service Philadelphia/Mount Holly regarding this weekend's weather.Good Evening Everyone! You may have heard about a system affecting our region late this weekend. Here is the latest (as of Wednesday evening). A system is expected to cross over our region from late Sunday into Monday. The latest trend with the models has been for this to take a more inland track (instead of staying just off the coast). If this trend continues, that would mean more rain for the I- 95 corridor and coastal plains, while more wintry mix for areas north and west of the I-95 corridor. With this track, very little of our region would see a mostly snow event.
This is still 5 days out, so there remains quite a bit of uncertainty. We won't have a snow forecast for this until Friday night or Saturday morning (due to inherent uncertainty with snow forecasting, snow amount forecasts are issued for up to 3 days in advance). In the mean time, you can view the extended winter weather outlook (from NOAA NWS Weather Prediction Center) here: www.wpc.ncep.noaa.gov/wwd/pwpf_d47/pwpf_medr.php and read our forecaster discussion on this system here: www.wrh.noaa.gov/total_forecast/getprod.php?new&prod=XXXAFDPHI&wfo=phi
...
The US National Weather Service Philadelphia/Mount Holly has issued a Winter Weather Advisory for our area and is currently predicting 3-4" of snow. The Newton Police Department is asking residents to take steps to prepare for the storm's arrival.
Please remember that municipal ordinance prohibits parking on snow-covered streets to allow crews to safely treat our roadways. Casting snow into the roadway is prohibited, and snow must be cleared from fire hydrants within 12 hours of daylight after the storm has passed.
Power outages should be reported to JCP&L on their website at www.jcp-l.com, calling 888-LIGHTSS (888-544-4877), or texting OUT to LIGHTS (544487). Report wires down or other threats to safety to police by calling 9-1-1.
Residents may sign up for emergency alerts from the Newton Police Department by creating a Smart911 safety profile at www.Smart911.com
For more information about steps you can take to prepare for winter storms, visit www.ready.nj.gov/
...
Newton NJ: via US National Weather Service Philadelphia/Mount Holly www.weather.gov/phi/
Severe Thunderstorm Warning
Severe Thunderstorm Warning issued December 11 at 9:21PM EST until December 11 at 10:15PM EST by NWS Mount Holly NJ
The National Weather Service in Mount Holly NJ has issued a
* Severe Thunderstorm Warning for...
Morris County in northern New Jersey...
Hunterdon County in northwestern New Jersey...
Sussex County in northwestern New Jersey...
Warren County in northwestern New Jersey...
Northwestern Mercer County in central New Jersey...
Somerset County in northern New Jersey...
North central Middlesex County in northern New Jersey...
* Until 1015 PM EST.
* At 920 PM EST, severe thunderstorms were located along a line
extending from near Chester to near White House Station, moving
east at 60 mph.
HAZARD...60 mph wind gusts.
SOURCE...Radar indicated.
IMPACT...Damage to roofs, siding, trees, and power lines is
possible.
* Locations impacted include...
Morristown, Somerville, Newton, Bridgewater, Dover, Madison,
Hopatcong, Middlesex, Florham Park, East Hanover, Lincoln Park,
Bound Brook, Manville, Kinnelon, Hackettstown, Chatham, Byram,
Boonton, Butler and Wharton.
This includes the following highways...
Interstate 78 in New Jersey between mile markers 2 and 42.
Interstate 80 in New Jersey between mile markers 11 and 47.
Interstate 287 in New Jersey between mile markers 9 and 54.
For your protection move to an interior room on the lowest floor of a
building.
This severe thunderstorm may contain little or no lightning. Do not
wait until you hear thunder before taking cover.
www.weather.gov
...