3 Steps to Prepare for an Emergency
Step 1: Get a Kit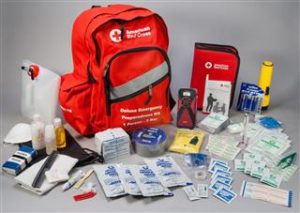 Make a kit of emergency supplies
Items For Your Home:
Three days' supply of canned, non-perishable, ready-to-eat FOOD
Three days' supply of WATER (a total of three gallons per family member)
Battery-operated RADIO and extra batteries
FLASHLIGHT and extra batteries
One week's prescription MEDICATIONS
FIRST AID KIT
Personal TOILETRIES
Non-electric CAN OPENER and UTENSILS
SPECIAL NEEDS items:

INFANT care items
Items for ELDERLY family members
Items for relatives with DISABILITIES

CASH or TRAVELERS CHECKS
Store important DOCUMENTS in a waterproof, safe location
In Case You Need To Evacuate:
Keep your vehicle's gas level at a minimum of half-a-tank.
Every family member must carry CONTACT INFORMATION:

All phone numbers at work, school, etc. for every family member
The name and number of a relative who lives out-of-state, to call in case your family gets separated.
close
These are the basics. Once you've created your basic kit, you should continually expand and refine it. For example, you could follow these additional tips on emergency food and water supplies.
Step 2: Make a Plan
"Make a Plan" for Yourself, Your Family, or Your Business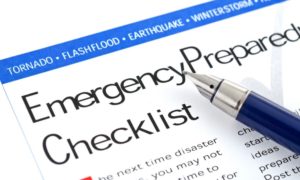 Establish a predetermined meeting place away from your home. Having a pre-arranged place to meet can save time and minimize confusion should your home be affected or the area evacuated. This may even be the home of a friend or relative.
Choose an out-of-state contact your family members will call or email to check on each other, should a disaster occur. Make sure every family member has that person's contact information.
Collect contact information for your family:
phone (work, cell, office)
email
social media
medical facilities, doctors, service providers
school
Complete a contact card for each family member. Everyone should keep these cards with them at all times.
Make sure all your family members know how to text. Make sure everyone knows how to turn on a cell phone, find the text messaging app, type a message, and send it to a contact.
Find the safe spots in your home for each type of disaster. For example, during a tornado, you would need to seek shelter in a lower level room without windows.
PRACTICE. Review these plans with all members of your family. Practice your disaster plans by running drills with the whole family.
Learn how and when to turn off the water, gas, and electricity at the main shut-off locations.
Show each family member how to use a fire extinguisher, and show them where it's kept.
---
If you have Disabilities or other Special Needs:
If you have Pets:
---
Learn what it means when Public Safety Officials order you to:
---
Learn More
Visit the American Red Cross Make a Disaster Preparedness Plan web page for more information and in multiple languages.
Step 3: Stay Informed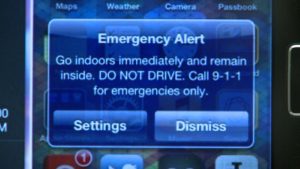 It is important to know about the risks that may happen in your community, and to know whether an emergency is imminent or is already taking place.
Visit our Community Alerts page to learn about the different ways emergency officials provide information during times of emergency.
Latest Facebook Posts
2021 Sussex County 9/11 Remembrance Ceremony
The 20th Anniversary of 9/11 will be commemorated in the annual ceremony at Sussex County Community College
A ceremony marking the 20th anniversary of the 9/11 terrorist attacks will be held at Sussex County Community College (SCCC) on Saturday, Sept. 11th, at 9 am at the College's 9/11 Memorial on the Connor Green.
All residents are invited to attend the annual ceremony, where each year communities join together across America in remembrance and prayer. Attendees will gather and reflect upon the innocent lives of those killed, pay solemn tribute to those who heroically sacrificed their own lives to save thousands of others, and remember all those who helped in the rescue-recovery efforts that followed at Ground Zero.
The College is pleased to announce that the Keynote Speaker will be SCCC Veteran Services Coordinator Jay Christy. After joining the US Army in May of 2001, Jay served 13 years as an Airborne Infantryman and Non-Commissioned Officer. He completed four combat deployments in total. Jay was deployed to Afghanistan from February 2005 until March 2006, with the 173rd Airborne Brigade Combat Team, out of Caserma Ederla, Vicenza, Italy, and redeployed quickly with Joint Special Operations Command from October 2006 until May of 2007.
Jay is a two-time recipient of the Bronze Star service medal for actions in combat and an Army Commendation Medal with Valor Device. His awards and citations also include the Combat Infantryman's Badge, Expert Infantryman's Badge, Senior Jumpmaster Wings, and numerous Army Commendations and Campaign medals.
The Sheriff's Honor Guard and numerous area Police and Fire Departments will be in attendance. Local vocalists and bagpipers will also bring their talents to the Remembrance Ceremony, where a wreath-laying will also take place at the Monument.
The 9/11 Remembrance Ceremony is an annual event organized by Sussex County PBA Local #138 and held on the SCCC campus. For more information on the ceremony, please contact Ptl. Mahir Kaylani, the County PBA Delegate, at the Newton Police Department (973)383-2525.
...
Newton NJ: via US National Weather Service Philadelphia/Mount Holly www.weather.gov/phi/
Flood Warning
Flood Warning issued September 2 at 4:45AM EDT until September 2 at 8:00PM EDT by NWS Mount Holly NJ
The National Weather Service in Mount Holly has issued a
* Flood Warning for
the Delaware River Near Tocks Island.
* From this afternoon to this evening.
* At 4:15 AM EDT Thursday the stage was 15.0 feet.
* Flood stage is 21.0 feet.
* Minor flooding is forecast.
* Forecast...The river is expected to rise to a crest of 21.0 feet
this afternoon.
* Impact...At 21.0 feet, Approach roads to the Shawnee Inn flood.
Route 209 begins to flood.
* Impact...At 22.0 feet, Many local roads that connect to Route 209,
River Road, and other park roads are closed.
* Flood History...This crest compares to a previous crest of 20.5
feet on 03/07/2011.
www.weather.gov
...
Newton NJ: via US National Weather Service Philadelphia/Mount Holly www.weather.gov/phi/
Flood Warning
Flood Warning issued September 2 at 12:01AM EDT until September 2 at 11:00AM EDT by NWS Mount Holly NJ
The National Weather Service in Mount Holly has issued a
* Flood Warning for...
Northwestern Morris County in northern New Jersey...
Northern Hunterdon County in northwestern New Jersey...
Sussex County in northwestern New Jersey...
Warren County in northwestern New Jersey...
Northeastern Northampton County in eastern Pennsylvania...
Southeastern Monroe County in northeastern Pennsylvania...
* Until 1100 AM EDT Thursday.
* At 1201 AM EDT, local law enforcement reported widespread flooding
in the warned area. Several roads are closed, and rivers and
streams continue to rise. Flooding is expected to continue for the
next several hours.
* Some locations that may experience flooding include...
Newton, Montague, Hopatcong, East Stroudsburg, Hackettstown,
Washington, Blairstown, Bangor, Mount Arlington, Franklin,
Stanhope, and Pen Argyl.
Turn around...don't drown when encountering flooded roads. Most
flood deaths occur in vehicles.
www.weather.gov
...