There are a variety of ways for residents to stay informed before, during and after emergencies.
Outbound 9-1-1
During times of emergency, public safety agencies can use technology known as "outbound 9-1-1" to send emergency alerts to residents. When activated by officials, the Rave Alert automated system calls homes and businesses in the affected area and delivers a recorded message to notify the public about the emergency and what actions they may need to take. Smart911 users may also opt to receive text messages and other types of alerts. 
The system will be used for the following types of events:
missing person alerts
emergency evacuations
local security and crime alerts
weather emergencies
hazardous materials events
emergent utility outage information
other threats to life and safety
This system is employed by emergency officials from the Town of Newton.
While the system may already have some phone numbers registered from local telephone service providers, we recommend that everyone create and maintain an updated Smart911 safety profile to ensure we have complete and accurate information. When a Smart911 safety profile is created, you will be prompted to choose which types of alerts you would like to receive from the Town of Newton (emergency alerts, non-emergency alerts, etc.) or you may opt out entirely.
Question:

How do I sign up for Outbound 9-1-1?
To get started or update your information, visit the Rave Alert/Smart911 registration page, or download their app:




Question:

Where can I learn more about Smart911 safety profiles?
National Emergency Alert System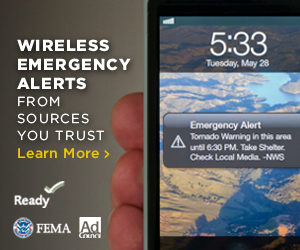 The Emergency Alert System (EAS) is a national public warning system that requires broadcasters, satellite digital audio service and direct broadcast satellite providers, cable television systems, and wireless cable systems to provide the President with a communications capability to address the American people within 10 minutes during a national emergency. The EAS broadcasts messages regarding:
Extreme weather, and other threatening emergencies in your area
AMBER Alerts
Presidential Alerts during a national emergency
Tsunami Warnings
Tornado and Flash Flood Warnings
Hurricane, Typhoon, Dust Storm and Extreme Wind Warnings
Question:

What should I do when I receive a WEA message?
Follow any action advised by the message. Seek more details from local media or authorities.
Question:

Do consumers have to sign up to receive alerts?
Consumers do not need to sign up for this service. WEA allows government officials to send emergency alerts to all subscribers with WEA-capable devices if their wireless carrier participates in the program.
Question:

Where can I find more information about the EAS?
Question:

Why are Wireless Emergency Alerts (WEA) important to me?
Alerts received at the right time can help keep you safe during an emergency. With WEA, warnings can be sent to your mobile device when you may be in harm's way, without the need to download an app or subscribe to a service.
On the Web
Use credible websites to get information about natural hazards and emergency preparedness. Emergency managers at all levels of government work closely with the National Weather Service and the National Hurricane Center regarding storm predictions and forecasts.
Social Media
Social media and other advanced communications technologies are used by Newton OEM and emergency managers nationwide.
Please enter Twitter API keys in settings.
Traditional Media
Continue to monitor traditional media sources – TV, newspapers and radio – to stay informed of breaking news and continued coverage of emergency events.
NOAA Weather Radio
NOAA Weather Radio All Hazards (NWR) is a nationwide network of radio stations broadcasting continuous weather information from the nearest National Weather Service office.
NWR broadcasts official warnings, watches, forecasts and other hazard information 24 hours a day, 7 days a week.
It also broadcasts alerts of non-weather emergencies such as national security, natural, environmental, and public safety through the Emergency Alert System.
Latest Facebook Posts
Newton NJ: Newton Square (Main/Spring/Park) and High Streets now open.
...

See More

See Less
Newton NJ: Road closure High Street Northbound open up to Liberty Street. Proceed with caution, follow detours.
...

See More

See Less
**Update** Road is reopened.
Newton NJ: Road closure Newton square (Spring/Main/Park Place) closed for construction tonight. Proceed with caution, follow detours.
...

See More

See Less