3 Steps to Prepare for an Emergency
Step 1: Get a Kit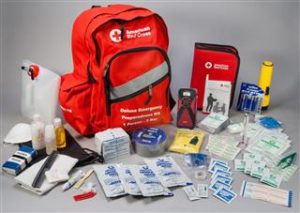 Make a kit of emergency supplies
Items For Your Home:
Three days' supply of canned, non-perishable, ready-to-eat FOOD
Three days' supply of WATER (a total of three gallons per family member)
Battery-operated RADIO and extra batteries
FLASHLIGHT and extra batteries
One week's prescription MEDICATIONS
FIRST AID KIT
Personal TOILETRIES
Non-electric CAN OPENER and UTENSILS
SPECIAL NEEDS items:

INFANT care items
Items for ELDERLY family members
Items for relatives with DISABILITIES

CASH or TRAVELERS CHECKS
Store important DOCUMENTS in a waterproof, safe location
In Case You Need To Evacuate:
Keep your vehicle's gas level at a minimum of half-a-tank.
Every family member must carry CONTACT INFORMATION:

All phone numbers at work, school, etc. for every family member
The name and number of a relative who lives out-of-state, to call in case your family gets separated.
close
These are the basics. Once you've created your basic kit, you should continually expand and refine it. For example, you could follow these additional tips on emergency food and water supplies.
Step 2: Make a Plan
"Make a Plan" for Yourself, Your Family, or Your Business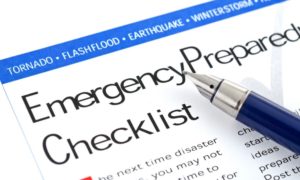 Establish a predetermined meeting place away from your home. Having a pre-arranged place to meet can save time and minimize confusion should your home be affected or the area evacuated. This may even be the home of a friend or relative.
Choose an out-of-state contact your family members will call or email to check on each other, should a disaster occur. Make sure every family member has that person's contact information.
Collect contact information for your family:
phone (work, cell, office)
email
social media
medical facilities, doctors, service providers
school
Complete a contact card for each family member. Everyone should keep these cards with them at all times.
Make sure all your family members know how to text. Make sure everyone knows how to turn on a cell phone, find the text messaging app, type a message, and send it to a contact.
Find the safe spots in your home for each type of disaster. For example, during a tornado, you would need to seek shelter in a lower level room without windows.
PRACTICE. Review these plans with all members of your family. Practice your disaster plans by running drills with the whole family.
Learn how and when to turn off the water, gas, and electricity at the main shut-off locations.
Show each family member how to use a fire extinguisher, and show them where it's kept.
---
If you have Disabilities or other Special Needs:
If you have Pets:
---
Learn what it means when Public Safety Officials order you to:
---
Learn More
Visit the American Red Cross Make a Disaster Preparedness Plan web page for more information and in multiple languages.
Step 3: Stay Informed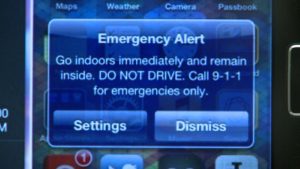 It is important to know about the risks that may happen in your community, and to know whether an emergency is imminent or is already taking place.
Visit our Community Alerts page to learn about the different ways emergency officials provide information during times of emergency.
Latest Facebook Posts
There is a power outage currently affecting several streets within the Town of Newton. JCP&L is notified and responding, however each individual customer should report their outage by calling 1-888-LIGHTSS (1-888-544-4877), or clicking the "Report Outage" link at www.firstenergycorp.com. Emergencies should be reported to 9-1-1. The Newton Police Department at 39 Trinity Street is also available 24/7 as an emergency warming center.
...

See More

See Less
The Town of Newton is once again holding their Flags of Honor ceremony - a moving and fitting tribute to our veterans. By purchasing a flag to honor a veteran, your contribution goes to support Community Hope's Hope for Veterans Program which ensures a safe haven for homeless and disabled Veterans every day.
*
Honor our veterans by donating before the Flags of Honor deadline on October 28th - just scan the QR code!
*
There will also be a dedication Ceremony on Saturday, November 5th, at 11am
on the front lawn of the Newton Municipal Building. All honorees, families, and
residents are invited!
*
If you have any questions, please contact the Town of Newton Recreation Department at
recreation@newtontownhall.com or 973-383-3521 ext. 231.
*
#NewtonNJ #ThankYouVeterans #thisisnewton
...

See More

See Less
Funeral arrangements for Ret. Byram Police Chief Eskil "Skip" Danielson:
Monday, 10/10/2022 4pm-8pm; Smith McCracken Funeral Home, 63 High Street, Newton NJ 07860
Tuesday, 10/11/2022 10:30am; Newton First Presbyterian Church, 54 High Street, Newton NJ 07860. Following the funeral service, there will be a procession with internment at Locust Hill Cemetery, 168 N. Sussex Street, Dover NJ 07801. A repass will immediately follow at the Byram Township Volunteer Fire Department, 225 US-206, Andover NJ 07821
...

See More

See Less