3 Steps to Prepare for an Emergency
Step 1: Get a Kit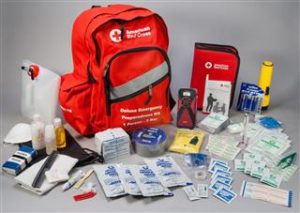 Make a kit of emergency supplies
Items For Your Home:
Three days' supply of canned, non-perishable, ready-to-eat FOOD
Three days' supply of WATER (a total of three gallons per family member)
Battery-operated RADIO and extra batteries
FLASHLIGHT and extra batteries
One week's prescription MEDICATIONS
FIRST AID KIT
Personal TOILETRIES
Non-electric CAN OPENER and UTENSILS
SPECIAL NEEDS items:

INFANT care items
Items for ELDERLY family members
Items for relatives with DISABILITIES

CASH or TRAVELERS CHECKS
Store important DOCUMENTS in a waterproof, safe location
In Case You Need To Evacuate:
Keep your vehicle's gas level at a minimum of half-a-tank.
Every family member must carry CONTACT INFORMATION:

All phone numbers at work, school, etc. for every family member
The name and number of a relative who lives out-of-state, to call in case your family gets separated.
close
These are the basics. Once you've created your basic kit, you should continually expand and refine it. For example, you could follow these additional tips on emergency food and water supplies.
Step 2: Make a Plan
"Make a Plan" for Yourself, Your Family, or Your Business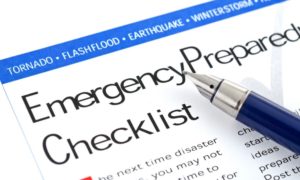 Establish a predetermined meeting place away from your home. Having a pre-arranged place to meet can save time and minimize confusion should your home be affected or the area evacuated. This may even be the home of a friend or relative.
Choose an out-of-state contact your family members will call or email to check on each other, should a disaster occur. Make sure every family member has that person's contact information.
Collect contact information for your family:
phone (work, cell, office)
email
social media
medical facilities, doctors, service providers
school
Complete a contact card for each family member. Everyone should keep these cards with them at all times.
Make sure all your family members know how to text. Make sure everyone knows how to turn on a cell phone, find the text messaging app, type a message, and send it to a contact.
Find the safe spots in your home for each type of disaster. For example, during a tornado, you would need to seek shelter in a lower level room without windows.
PRACTICE. Review these plans with all members of your family. Practice your disaster plans by running drills with the whole family.
Learn how and when to turn off the water, gas, and electricity at the main shut-off locations.
Show each family member how to use a fire extinguisher, and show them where it's kept.
---
If you have Disabilities or other Special Needs:
If you have Pets:
---
Learn what it means when Public Safety Officials order you to:
---
Learn More
Visit the American Red Cross Make a Disaster Preparedness Plan web page for more information and in multiple languages.
Step 3: Stay Informed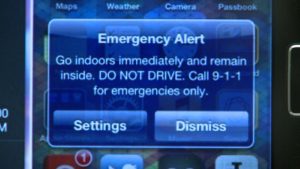 It is important to know about the risks that may happen in your community, and to know whether an emergency is imminent or is already taking place.
Visit our Community Alerts page to learn about the different ways emergency officials provide information during times of emergency.
Latest Facebook Posts
Newton NJ: via US National Weather Service Philadelphia/Mount Holly www.weather.gov/phi/
Severe Thunderstorm Warning
Severe Thunderstorm Warning issued June 14 at 6:48PM EDT until June 14 at 7:30PM EDT by NWS Mount Holly NJ
The National Weather Service in Mount Holly NJ has issued a
* Severe Thunderstorm Warning for...
Morris County in northern New Jersey...
Eastern Sussex County in northwestern New Jersey...
North central Somerset County in northern New Jersey...
* Until 730 PM EDT.
* At 647 PM EDT, severe thunderstorms were located along a line
extending from near Unionville to near Franklin to near Hopatcong
to near Long Valley, moving east at 45 mph.
HAZARD...60 mph wind gusts.
SOURCE...Radar indicated.
IMPACT...Damage to roofs, siding, trees, and power lines is
possible.
* Locations impacted include...
Morristown, Dover, Madison, Hopatcong, Florham Park, East Hanover,
Lincoln Park, Kinnelon, Chatham, Boonton, Butler, Wharton,
Rockaway, Morris Plains, Mount Arlington, Franklin, Mendham,
Mountain Lakes, Stanhope and Riverdale.
People at the Morris County Mega Site should seek safe shelter
immediately!
This includes the following highways...
Interstate 80 in New Jersey between mile markers 26 and 48.
Interstate 287 in New Jersey between mile markers 26 and 54.
For your protection move to an interior room on the lowest floor of a
building.
www.weather.gov
...
Timeline Photos

Severe thunderstorms are possible in our region. The threat is focused mainly on tonight. #pawx #njwx #dewx #mdwx
...